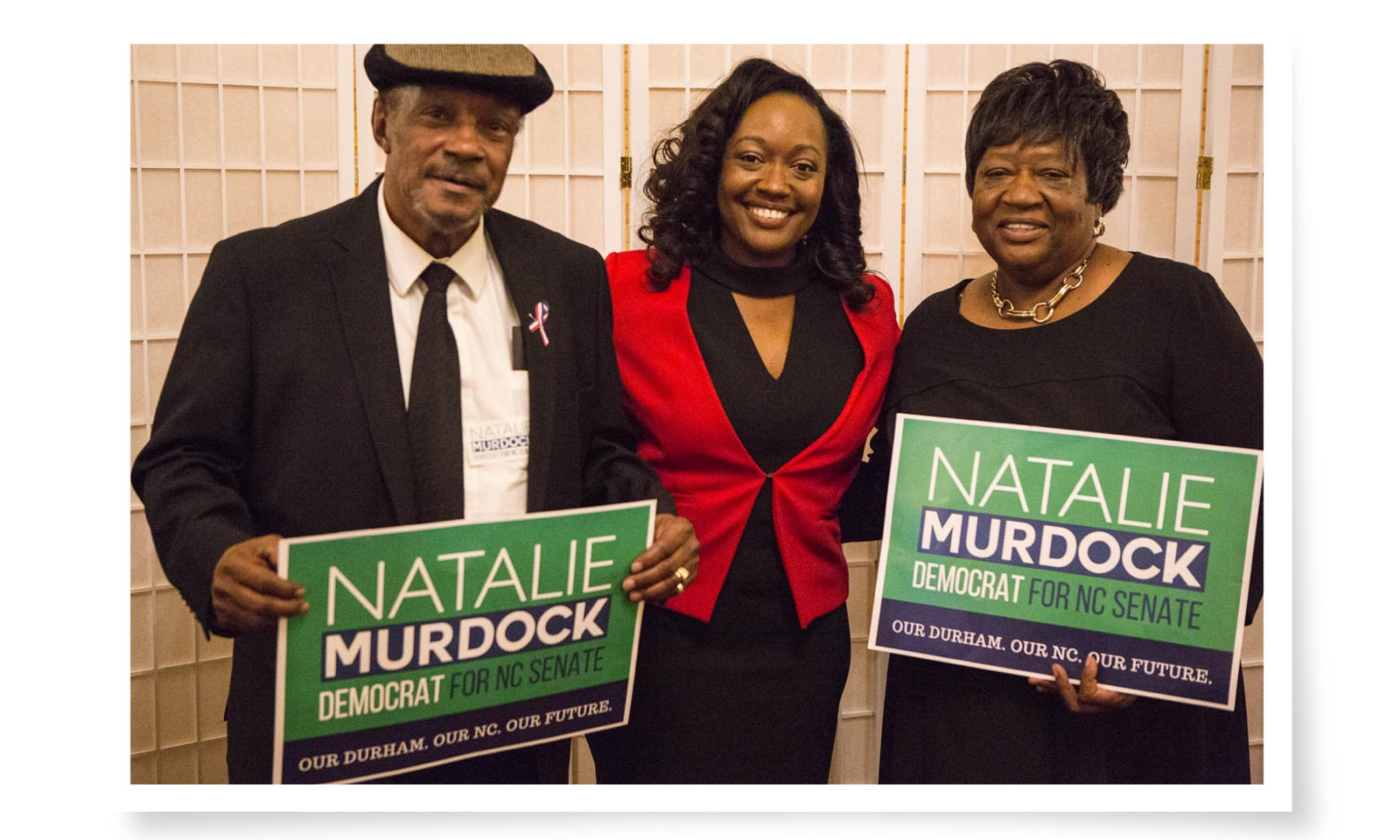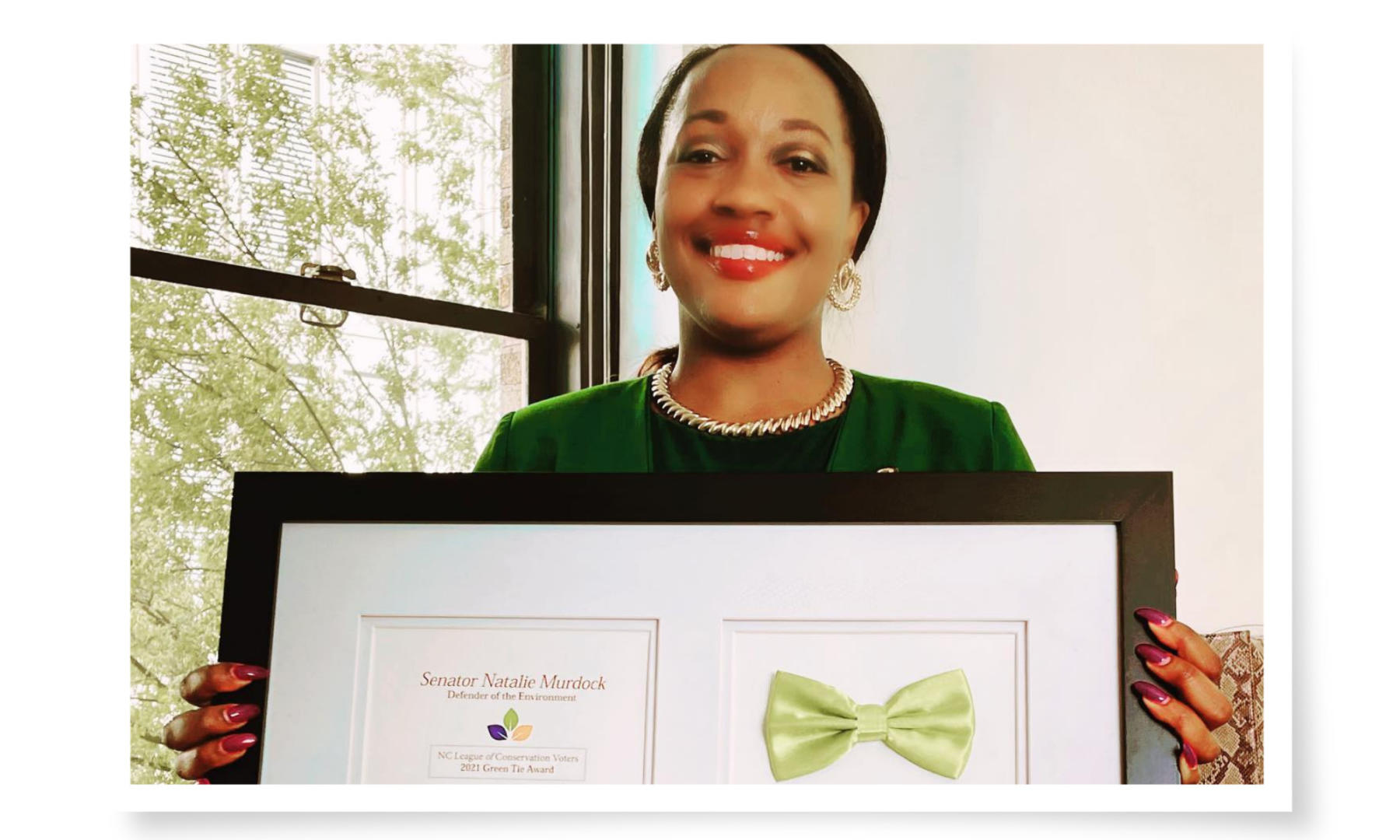 My family has always taught me the following — "To whom much is given, much is required."
Today, we all share many opportunities thanks to the work, commitment, sacrifice, and progress earned and provided by those who have come before us, including our parents, grandparents, and other ancestors. 
Natalie's Family
My family has blessed me with role models throughout my life. My mother has worked as a nurse. She always helped those in need and assisted in healing individuals and families. My father, a veteran, served his country. As a social worker, he also had a calling to assist his neighbors in his community. Because of his service, he was honored to receive the NAACP Man of the Year Award.
My parents learned about service from their parents who taught me to work hard each day to improve life for one's family, community, state, and country.
At age 12, my grandfather, Curtis Murdock Sr., left South Carolina and dedicated himself to becoming a brick mason. He established Murdock Concrete Company in Guilford County — the first African-American-owned company in the area that produced its own concrete.
His wife — my grandmother — Dorthey Lee Jackson Murdock — worked in a cafeteria. She saw firsthand the need for fairness and fair play in the workplace.  As a result, she put herself on the line to fight for life and family-sustaining wages so she and her co-workers could feed those depending upon them and have a decent place to live. They only earned a wage of 90-cents-per-hour at the time. Prior to that time, Grandmother Dorthey joined her two daughters, Charlotte and Martha Ann, to march with the Woolworth Four in Greensboro to ensure that equal rights, opportunity, and access to service become available for all. Thanks to that commitment, some of their names today appear in remembrance as etchings in the wall at the Greensboro Civil Rights Museum.
My mother's parents shared the same industrious spirit. My grandmother was a homemaker and leader in her church. She had dreams of attending the Palmer Memorial Institute. My grandfather sweated and used his muscles and back as a farmer to support his family.
He also used the strength of his spirit as an Elder at his church to help assist his neighbors and community. He passed when I was very young, but the example he set to always work hard, never give up, and serve others in need, moves me daily.
That commitment of my parents and grandparents to serve their community through their churches and through community service also moves and inspires me to dedicate my life and efforts to public service.
Natalie's Work in the NC General Assembly
During this session, I have sponsored/co-sponsored key pieces of legislation such as:
SB 649 – (Sponsor) North Carolina Venture Fund, Provides funding for initial capital for developing technology companies and ventures. 
SB 600 – (Sponsor) Study Automation and the Workforce, would establish a committee to review the current and future effects of automation on the workforce that would provide government officials, educators, and business leaders, with the information and insight necessary to guide the state towards mitigating the negative effects of automation on workers. 
SB 589 – (Sponsor) Small business capital improvement account, an act to allow small businesses to eliminate state income taxes on a portion of revenue if used for capital expenditures. 
SB 563 – (Sponsor) Renewable Energy Tax Credit, an act to reenact a tax credit incentive for investing in renewable energy property. Business provision: a credit ceiling of two million five hundred thousand dollars applies to each installation of renewable energy property placed in service for a business purpose. 
SB 558 – (Sponsor) Veterans Business Participation Tracking, an act to encourage and promote the use of veteran contractors in state purchasing of goods and services, state construction contracts, and state information technology procurement. 
SB 524 – (Sponsor) Small Business Assistance, An act to provide funds to assist small businesses. Provides grants to small businesses and establishes the small business recovery program. 
SB 512 – (Sponsor) Hire NC Workers, an act to provide tax incentives for small businesses to hire North Carolina workers. 
SB 334 – (Sponsor) Funds/Center For Entrepreneurship, an act to appropriate funds to the national institute of minority economic development to establish the center for entrepreneurship. 
SB 223 – (Primary Sponsor) Durham/Grants to Businesses & Nonprofits, an act authorizing the city of Durham to make grants to businesses and private or public nonprofit organizations that serve the public interest and well-being of the Durham community and it's citizens. 
I have continued to build relationships throughout District 20 to ensure that I am not only representing the voices in my district but across our state. 
Natalie's Previous Work
I have worked with farmers and families as a Durham County Soil and Water Conservation District Supervisor to:
Improve farming and produce more high-quality food for all communities




Reserve our land, open spaces, and drinking water




Ensure that movements such as farm-to-table operate equitably




Eliminate food deserts in our communities




Address access to healthy and fresh food




Expand partnerships with local schools to provide educational and training programs to get students excited about environmental stewardship



My other efforts include starting a business. In 2017, I launched a company, Attal Strategies, to work with and assist private companies and non-profits to raise capital and better engage with the communities we serve. I feel proud that through my business efforts I have had opportunities to
Support and improve the important work done by childcare providers




Support the construction of better roads, bridges, and transit networks




Ensure rural areas become well-positioned for job creation




Work with Attorney General Josh Stein on criminal justice issues to protect families and ensure fairness for all




Advocate statewide for greater access for all families to fresh food and clean and high-quality drinking water
Prior to starting my own business, I have tackled many of these issues and more through various professional and volunteer responsibilities that I have accepted. For example, I began my professional career working with Chris Kromm at the Institute for Southern Studies right here in Durham. Then, the City of Asheville Economic Development Office and Advantage West Economic Development Group provided an opportunity for me to tackle many job development and agri-business efforts. I felt proud to assist many local farmers and farming businesses to increase progress and success throughout their communities.
Just before starting my business, I had the honor to work with Attorney General Stein on his many efforts to improve life throughout North Carolina. I assisted the Attorney General as the Deputy Director of Communications and as the Community Outreach and Partnership. Those responsibilities helped me connect many people throughout the state that work constantly to solve problems and deal with many concerns.
Additionally, my background also includes service as:
Traveling Press Secretary for the Deborah Ross for Senate Campaign

Director of Marketing and Communications for GoTriangle, a regional transit agency

Vice Chair of Precinct 5 in Durham County, First Vice Chair of the Durham County Democratic Party, Secretary of the Durham Democratic Women, and Third Vice President of the African-American Caucus of the North Carolina Democratic Party

Membership and participation on the Durham County Transportation Advisory Board, the UNC-Chapel Hill Institute for the Environment Board of Visitors, the Black Leaders Organizing Collective (BLOC) Board, and the City of Durham Participatory Budget Steering Committee
Please note that all of these positions and service have benefited from the knowledge and skills that I developed in earning a Bachelor of Arts in Political Science and Communication Studies from UNC-Chapel Hill and in studying Public Administration at Western Carolina University and Leadership and Organizational Change at Pfeiffer University.